MODAPTS® and Lean Six Sigma to Increase Employee Productivity
While MODAPTS® may not have the common popularity of Lean Six Sigma, interest continues to grow. This is because more companies are using MODAPTS® as part of their Six Sigma initiatives. As a tool to improve ergonomics in the workplace, MODAPTS® identifies ways to make work more efficient by identifying non valued added movements in the assembly process.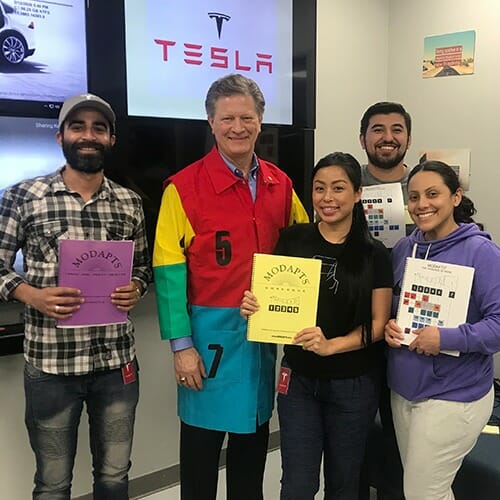 What is MODAPTS®?
MODular Arrangement of Predetermined Time System, MODAPTS® is a way of measuring work without stopwatches or complex formulas. It assists in the calculation of reliable production standards, improving productivity: consistent with Lean Six Sigma objectives.
Why MODAPTS®?
It's the ease and the usefulness of MODAPTS® application not only improves productivity but ergonomics and employee-relations. Many professionals can benefit from using MODAPTS® including Assembly Engineers, Consultants, Continuous Improvement Associates, Directors of Engineering, Directors of Operations, Engineering Managers, Engineering Technician, Industrial Engineer, Lean Coordinator, Lean Six Sigma Coordinator, Logistics Planner, Manager-Advisory Services-Supply Chain, Manufacturing Engineer, Operations Manager, Process Engineer, Product Manager, Quality Technician, Senior Project Manager, Six Sigma Coordinator, Staff Engineer, Standards Engineer, Systems Engineer, Tool Engineer, or Work Standards Engineer.
What is the Benefit to Your Organization?
With MODAPTS®, you or your team are able to analyze any type of manual work with one of the most efficient and widely used work measurement techniques. It reduces the time needed to analyze work and perform time studies.
MODAPTS® provides you with a work measurement tool that is 'method sensitive' where the outcome of the analysis provides cues as to where there are opportunities for saving time, money, and energy. At the same time, it eliminates the subjectivity involved in performance rating an activity. This is because MODAPTS® work measurement technique is based on movement.
It meets the work measurement needs of many industries including manufacturing, service, and distribution, and MODAPTS® is a tool that is well accepted by employees, unions, and management.
Lean Six Sigma + MODAPTS®
If Lean Six Sigma is a focus of your organization, consider adding MODAPTS® as part of your strategy. As an easy and practical measurement of work, it's an incredible way to improve the efficiency and work of your establishment.
Start with a FREE Consultation
You could browse our site for the next hour OR schedule a FREE 20-minute consultation with Eisbrenner Productivity Group (EPG) founder, Ed Eisbrenner. Ed will review your company goals and customize a solution to meet your needs.