A tool for analyzing human work, MODAPTS® helps you determine reasonable expectations for the time required to complete a defined task by a typical operator. While the accuracy of the MODAPTS® system is comparable to most other systems in its class, MODAPTS® is less complex and easier to understand.
Start with a FREE Consultation
You could browse our site for the next hour OR schedule a FREE 20-minute consultation with Eisbrenner Productivity Group (EPG) founder, Ed Eisbrenner. Ed will review your company goals and customize a solution to meet your needs.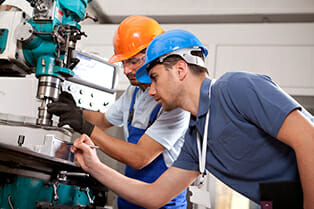 Ed went above and beyond to help us understand the material, which was the best way to meet our training needs.
Basic MODAPTS® Practitioner Certification Training
To learn how to create fast and reliable work measurement standards with MODAPTS®, you can complete our comprehensive work measurement training course.
Course Highlights
• Introduction to predetermined time standards
• What is a "standard" worker?
• What does a "fair days' work" mean?
• Compressive exercises
• Final exam: The exam will be administered and graded by the Certification Committee of the International MODAPTS® Association. Upon successfully passing the exam with a minimum score of 70%, you will receive a MODAPTS® Practitioner certificate, suitable for framing.
What Will You Learn?
• How to conduct a MODAPTS® work measurement analysis
• How to measure work performance efficiently and accurately
Types of Training Offered:
Onsite Training
Our instructor comes to your facility to train and certify your team.
Online Training
Earn your certification at your convenience from anywhere in the world.
Offsite
We offer training and certification around the world at various locations.