EPG Will Come To You
Ed Eisbrenner travels the world to help companies implement MODAPTS® as a means to improve productivity, ergonomics, and more with ease. Unlike other productivity systems, MODAPTS® does not rely on complicated formulas or expensive software. Rather, as a tool for analyzing human work, MODAPTS® uses movement metrics to determine productivity standards. It is an accessible and affordable solution for organizations that strive to lower production costs while improving output.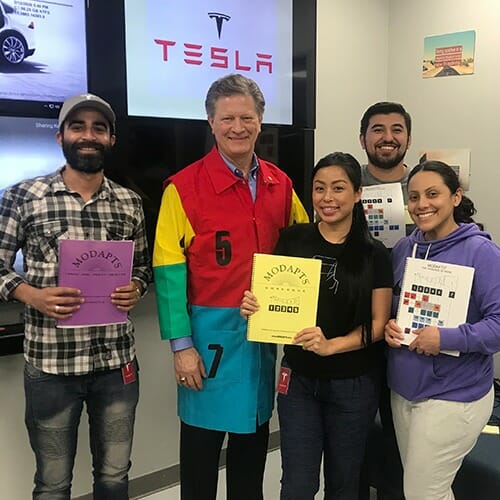 Get tomorrow's training today—on your own site. With MODAPTS® onsite training, your teams receive an intense, highly interactive learning experience. More than 97% of former participants indicate that the onsite training helped them feel more confident conducting a MODAPTS® analysis and/or evaluating a workstation layout. Participants view the onsite and online versions of MODAPTS® certification as equally effective.
Start with a FREE Consultation
You could browse our site for the next hour OR schedule a FREE 20-minute consultation with Eisbrenner Productivity Group (EPG) founder, Ed Eisbrenner. Ed will review your company goals and customize a solution to meet your needs.
Presented with skill, enthusiasm, and up-to-date materials, onsite MODAPTS® Practitioner Training classes present the principles, concepts and rules for using the MODAPTS® work measurement system. Each class is tailored to your employees' needs. During this 3 day session, our top-notch certified instructors deliver clear and concise training methods to guarantee your employees get the results you need. To make the session more personal, we perform a work measurement analysis on one or more of your operations as part of our hands-on MODAPTS® study examples.
The class is relevant to new IEs, as well as veteran IEs, time-study technicians, factory supervisors, and anyone who needs a primer on how to evaluate worker pace and performance and measure output without using a stopwatch. Substantial class time is spent on "fair day's work" concepts and the performance expectations of a "normal" operator.
Automobile manufacturers, OEM suppliers, and other manufacturers have completed this program at their facilities. To generate reliable work standards, the program uses numerous video examples of actual plant scenes in fabrication and assembly operations.
Learn More About Onsite Training, Contact Us Today: